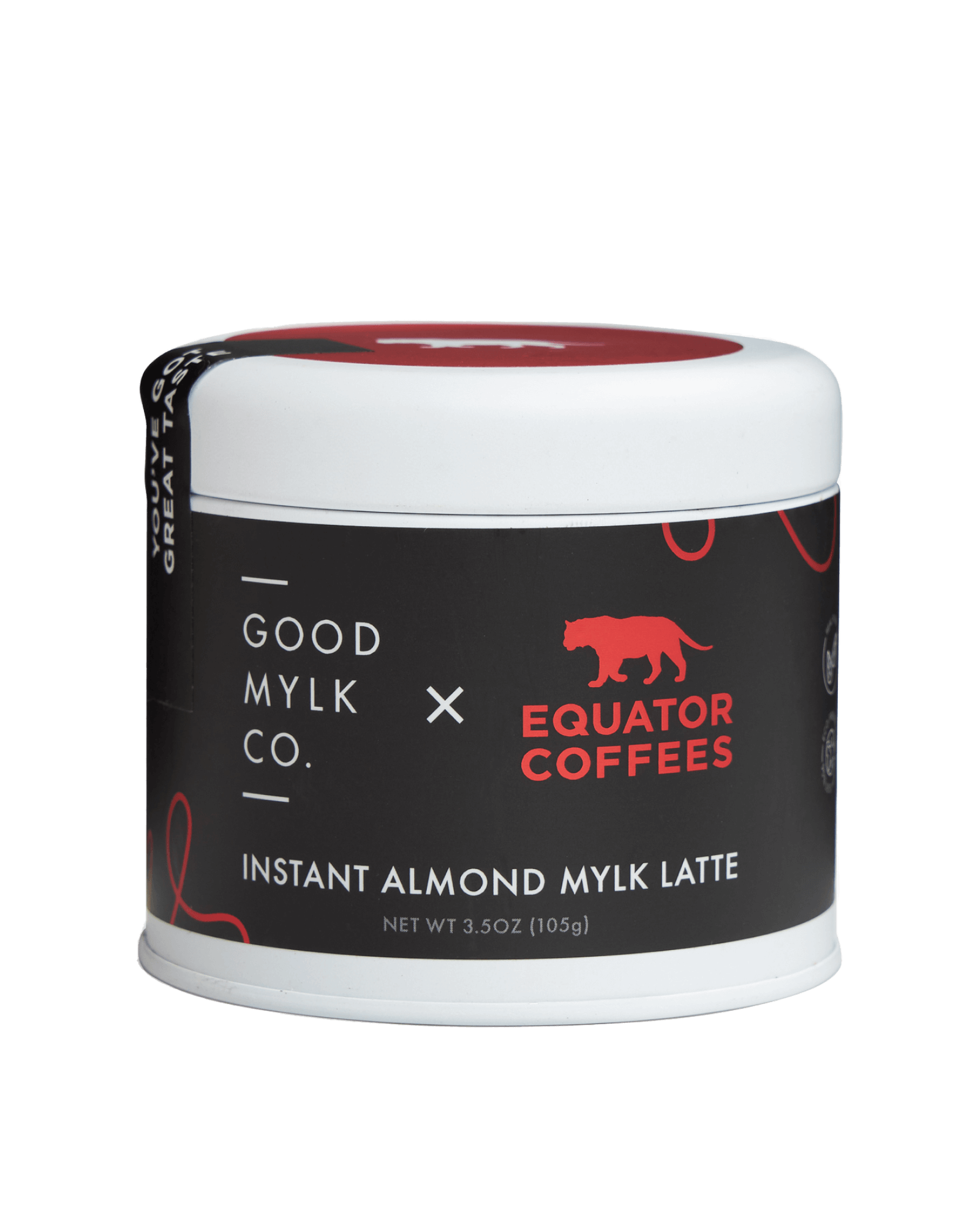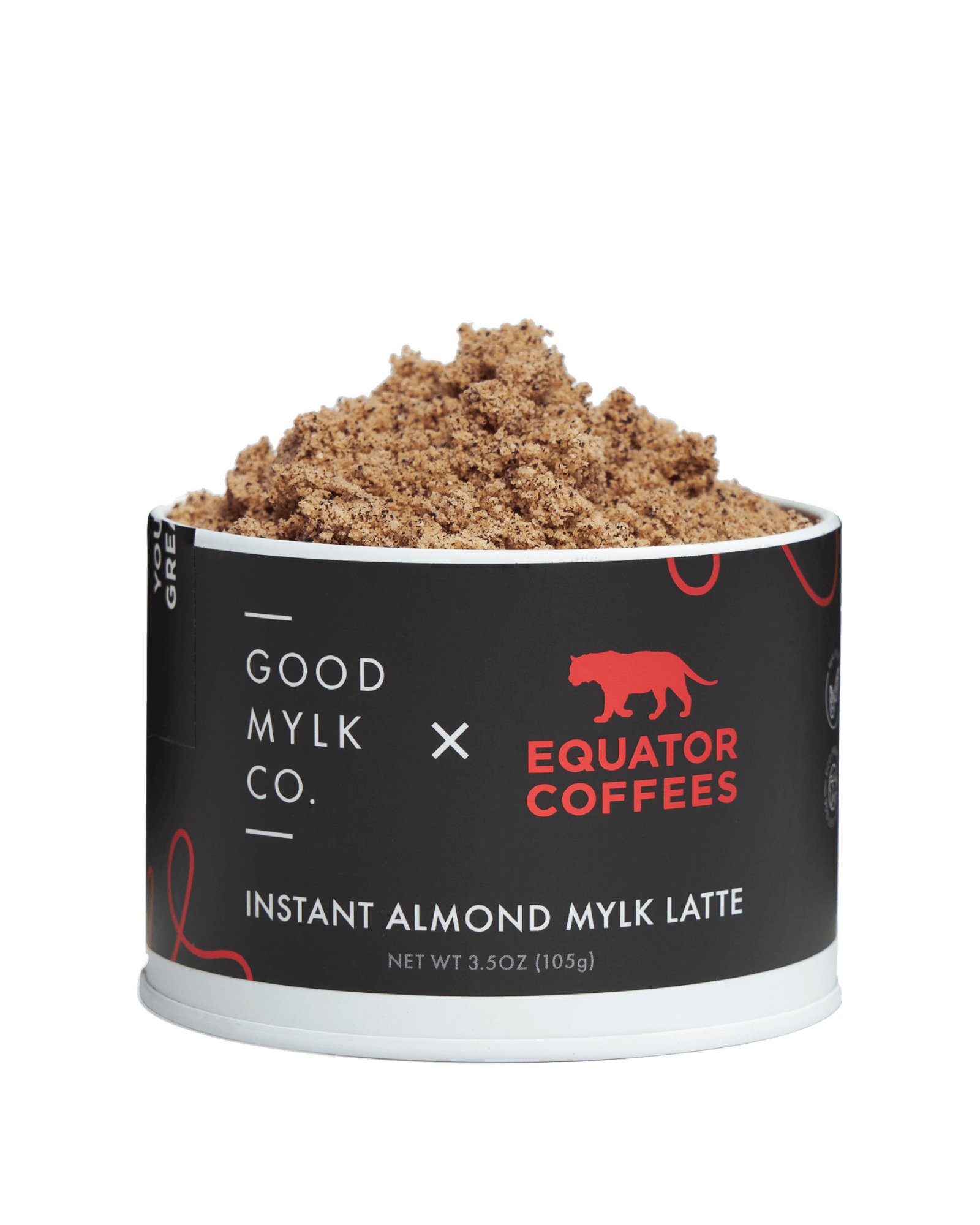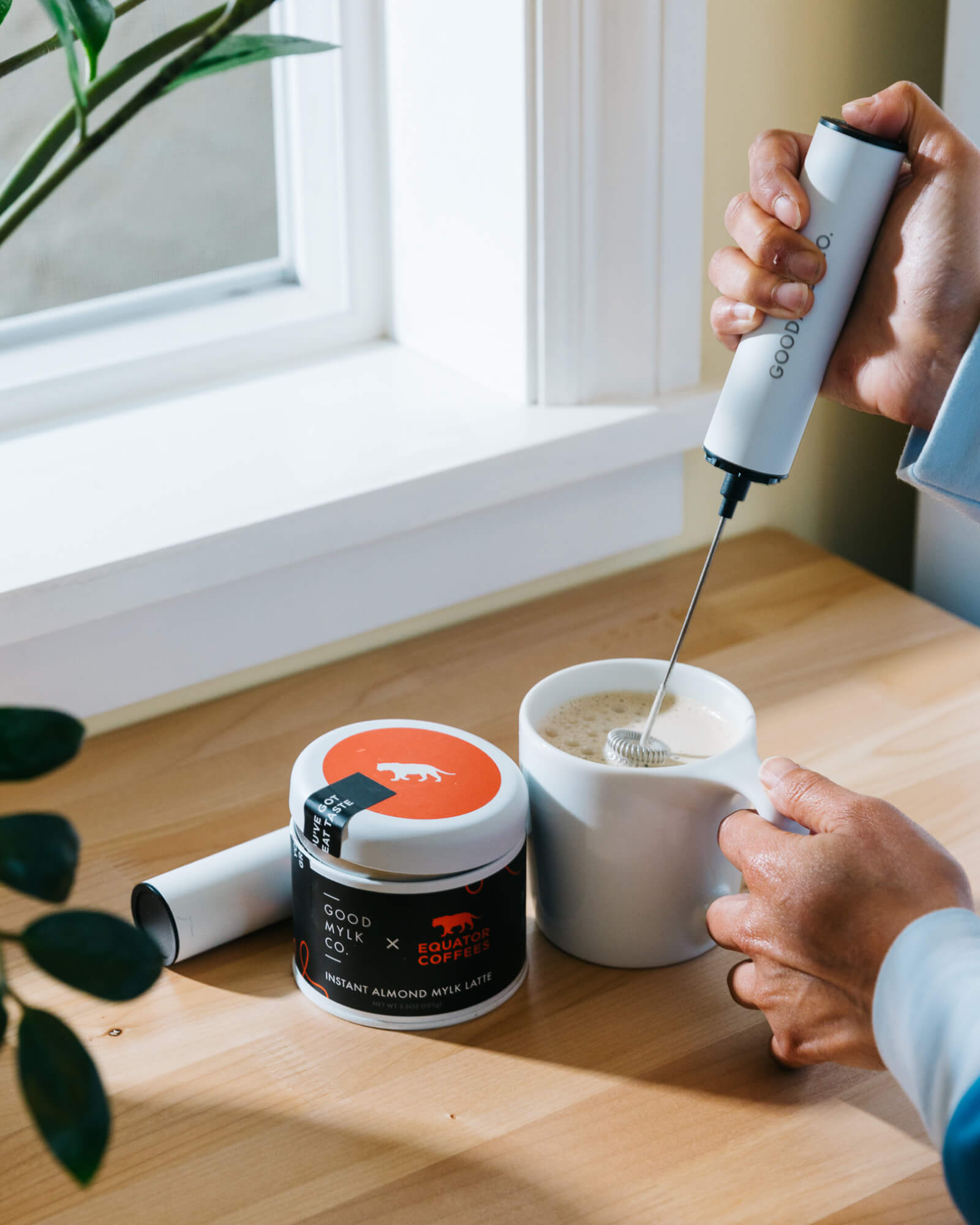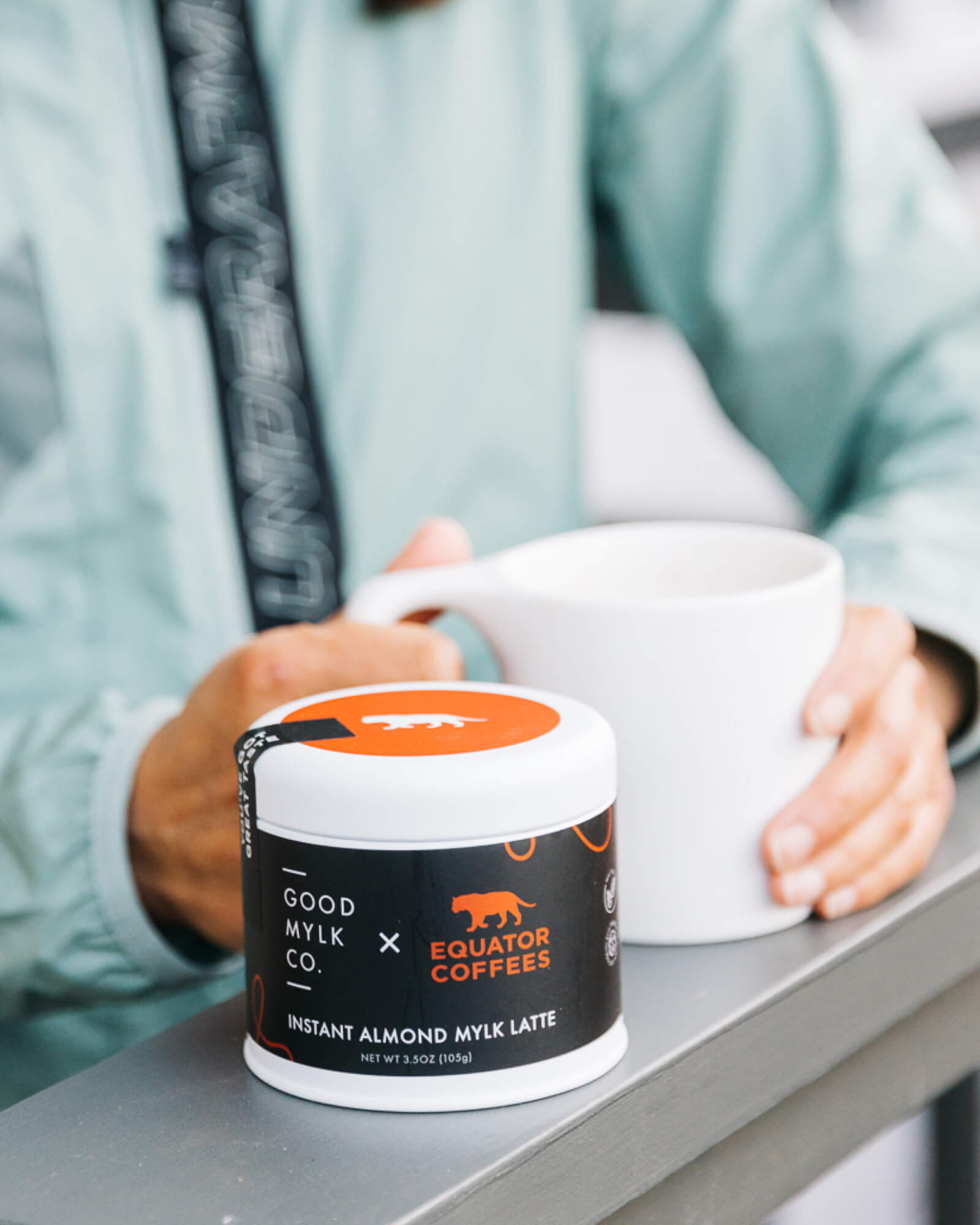 Instant Almond Mylk Latte
Ingredients: Sprouted Almonds, Equator Instant Coffee, Maple Sugar and Himalayan Salt
Just because you don't have time, doesn't mean you can't have quality.
Enjoy a delicious almond latte in seconds. Simply scoop 4 level tablespoons and add 8 ounces of water and whisk or blend for a creamy, coffee bar-style latte in seconds.

Origin Story
Multiple producers (Sumatra, Kenya)
Federación Campesina del Cauca (Colombia)
Kateshi Estate (Zambia)
The base instant coffee used in our Instant Almond Mylk Latte, the crowd-pleasing Equator Blend is rich and smooth, highlighting a deep-toned Lintong coffee from small garden farms in the Lake Toba region of Sumatra, which offers nuances of sweet grapefruit and aromatic wood. This coffee, like most cultivated in Sumatra, is processed using the wet-hull method, contributing to its unique flavor profile.

Then, we add a fully washed coffee from Kenya that adds elements of brightness and helps bring out the flavor of other coffees in the blend. Kenya has one of the best systems for compensating the highest quality lots; registered buyers taste samples weekly and then compete at auction where the best tasting coffees are rewarded. Because the auction lots are so small, our partners purchase many lots of similar quality and then, through a complex grading process, create the consistency we need for use in the blend.

Another fully washed coffee produced by members of Federación Campesina del Cauca, a cooperative representing six smaller coffee farmer organizations located in the rollings hills of Cauca, Colombia. It was founded in 1971 with the mission of serving small producers, giving them access to agronomy training and developing young leaders in the community. The group maintains a membership of approximately 700 small producers, 29% of which are women.

We finish the blend with a coffee from Ketashi Estate, one of the largest coffee farms in Zambia. Kateshi Estate boasts 6,100 acres, of which 1,910 acres are dedicated to coffee cultivation. The farm has been under the current ownership since 2012, the year Singapore based Olam International purchased the Northern Coffee Corporation and revived these inactive estates. The company manages five estates which total a massive 14,500 acres of land. The management provides worker housing on the estates, funds a school with 800 students, as well as a medical clinic and research center.
Altitude
Variety
Processing
Why We Love This Coffee
No matter how far away you venture from an Equator cafe, you'll never miss out on your latte while you're on the go with the Equator instant almond latte created in partnership with Goodmylk.

Made from onlyfour simple ingredients —Sprouted Almonds, Equator Instant Coffee, Maple Sugar and Himalayan Salt— this one-of-a-kind product is the perfect way to create a rich, creamy, and delicious latte in an instant. Simply add water, whisk or froth to combine and enjoy.
Good Coffee, Better Planet
We treasure our relationships in the global coffee community and invest in projects at origin to support our partners in their commitment to environmental sustainability and social welfare. We also invest in reducing our day-to-day impact, through initiatives like energy-efficient Loring Smart Roasters to reduce carbon emissions per batch by 80%.

As a certified B Corporation, we are a leader in sustainable practices that impact people and the planet. This third-party certification requires us to demonstrate transparency and accountability throughout our supply chain and quantify the impact our business creates for our employees, the community, and the environment. We are proud to be part of this community working together toward one unifying goal: using business as a force for good.