Best seller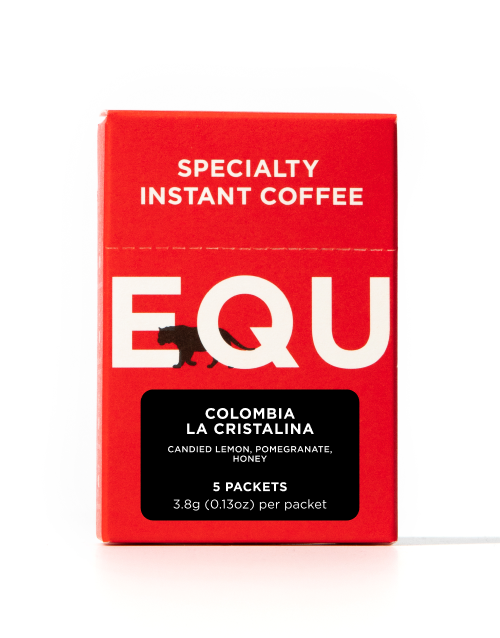 Colombia La Cristalina Instant Coffee, 5-Pack
Candied Lemon, Pomegranate, Honey
Colombia La Cristalina Instant Coffee, 5-Pack
$15.00
Origin
Producer: La Cristaline
Guática, Risaralda
Roast Level
Medium Light
Light
Med Lt
Med
Med Drk
Dark
Tastes Like
Candied Lemon, Pomegranate, Honey
Berry, Floral, Citrusy
Altitude
4,430 - 5,900 feet
Variety
Caturra, Castillo, Catimor
Processing
Washed
Our Instant Coffee
Instant coffee that meets Equator standards. Great hot or cold, it's ready when you are.
Easy to brew and filled with premium coffee flavor, each packet makes 8-10oz of liquid coffee. With five cups per box, all your journeys can have the flavor of a pour over at instant speed.
Our instant coffee is brewed to capture the complex flavor notes you would expect in any Equator coffee, without the bitterness typically associated with instant coffee. Simply add water, to create a wherever, whenever beverage that tastes like a pour over.
Current Offering
Colombia La Cristalina Single Origin Espresso
We selected this washed process lot from the La Cristalina cooperative as our latest single-origin espresso offering. It was produced by small-holder farmers near the town of Guática in the Risaralda Department of Central Colombia. Once known primarily for commercial coffee, Risaralda is beginning to make a name for itself on the specialty coffee scene. This success is due in part to the efforts of the quality focused team at La Cristalina. The Association was founded in 2007 with 55 original members, today the group includes about 160 smallholder farmers and continues to grow because of the agronomic support, education, and the high premiums paid for better qualities.
Read More