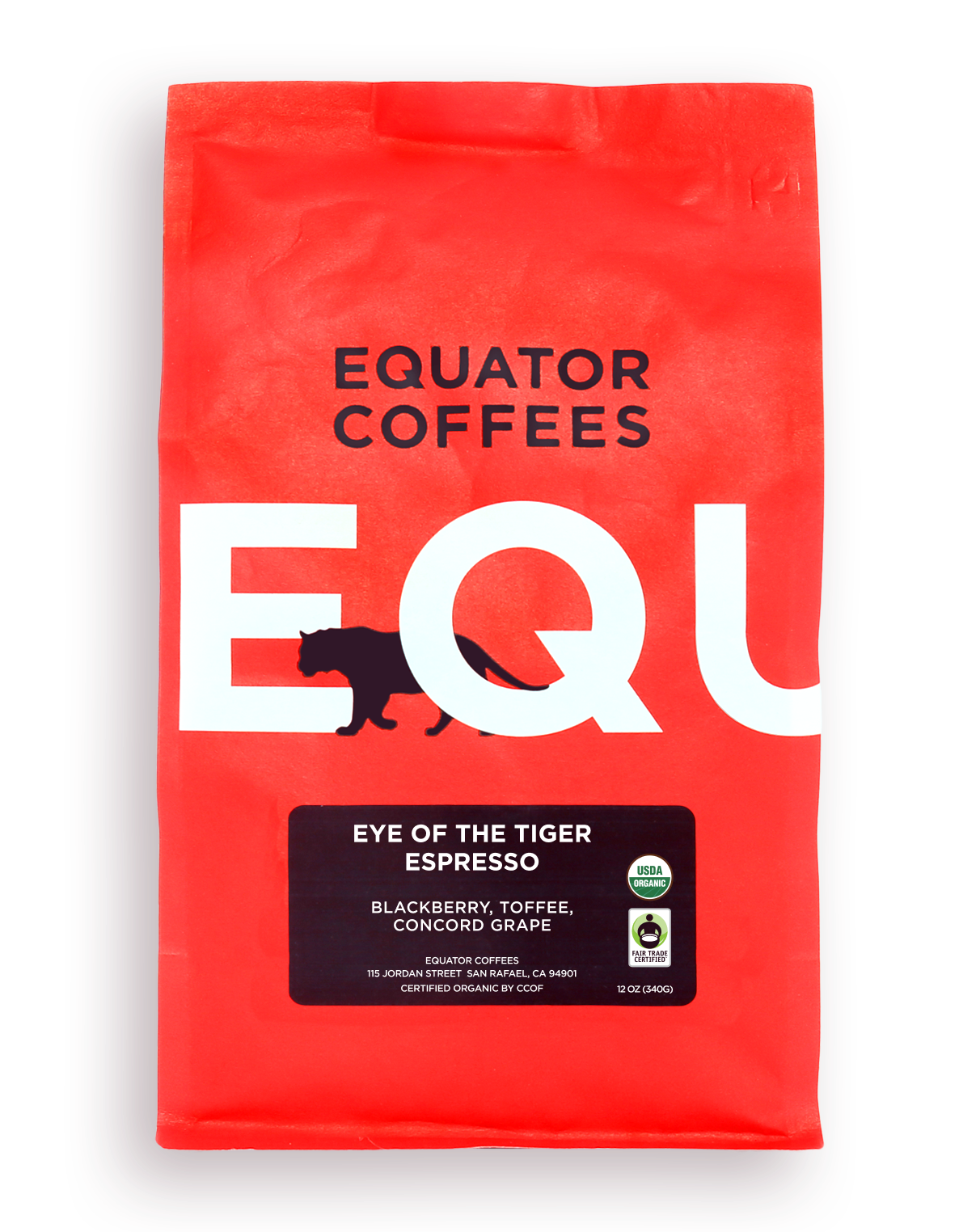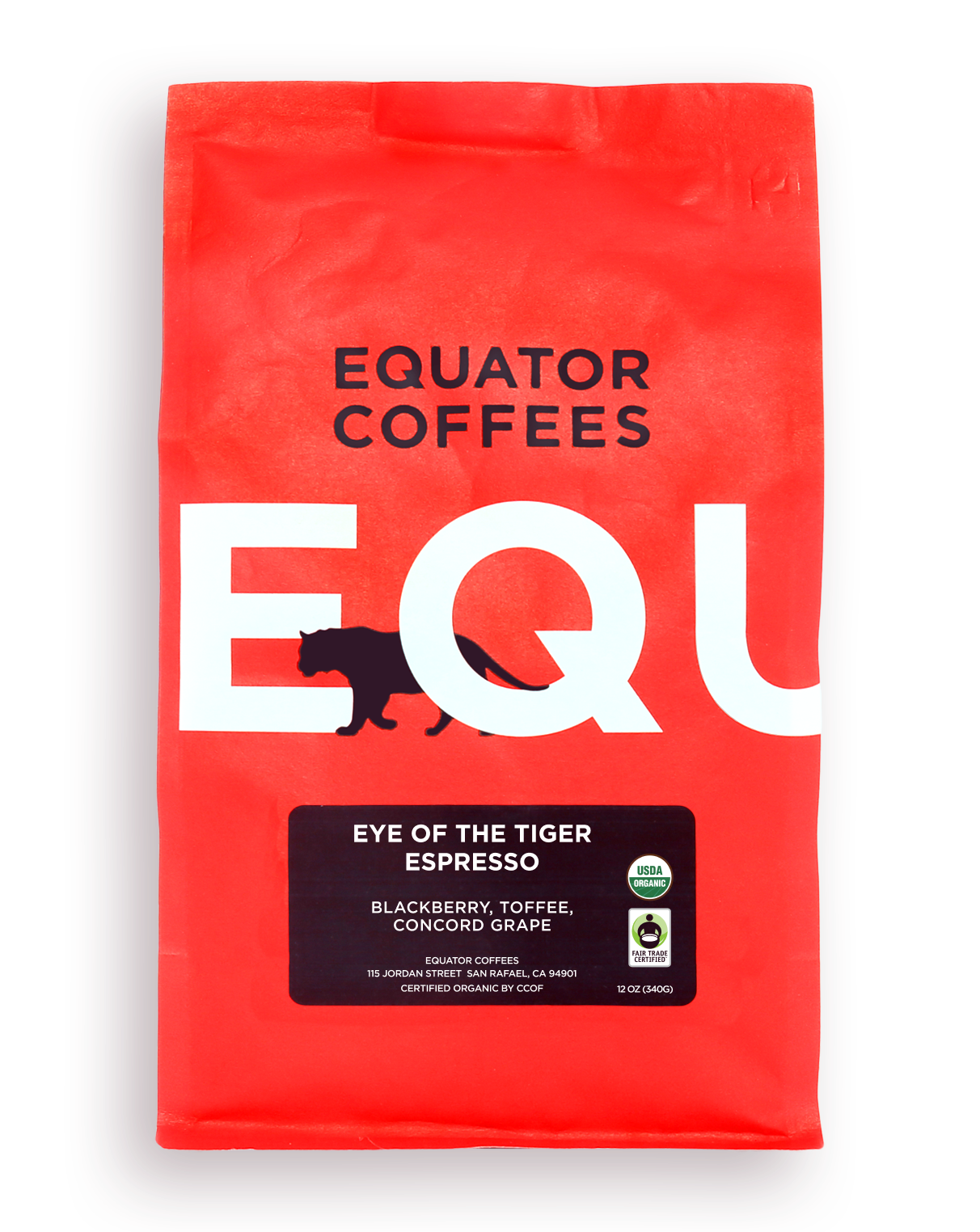 Eye of the Tiger Fair Trade Organic Espresso
Blackberry, Toffee, Concord Grape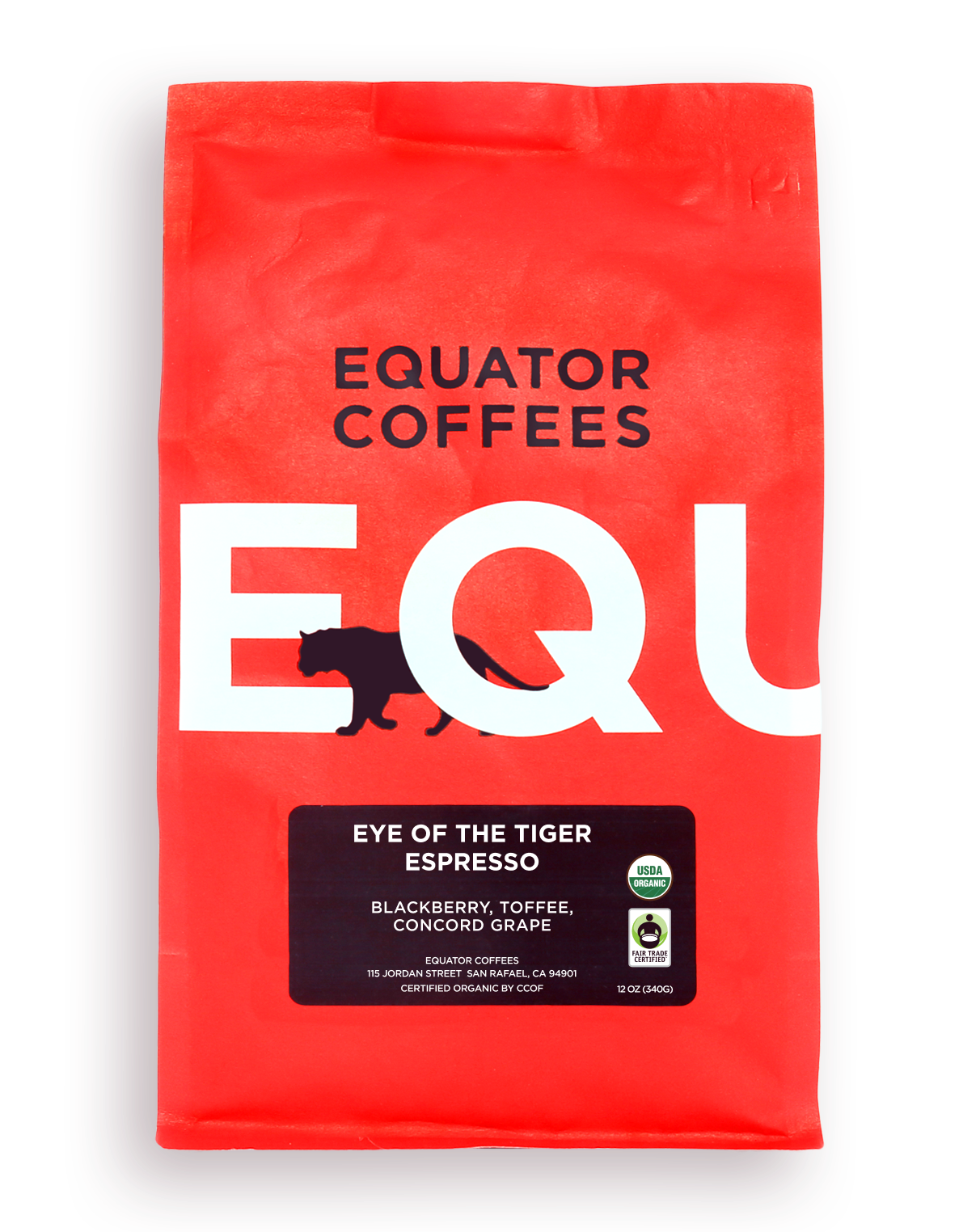 Eye of the Tiger Fair Trade Organic Espresso
$17.50
Origin
Multiple Origins
Ethiopia, Ecuador
Roast Level
Medium Light
Light
Med Lt
Med
Med Drk
Dark
Tastes Like
Juicy and sweet with flavors of blackberry, toffee, Concord grape, and brown butter.
Berries, Chocolatey, Citrusy
Altitude
Various
Variety
Various
Processing
Washed, Natural
An Evolving Espresso
Presenting the latest edition of our seasonally evolving espresso blend, Eye of the Tiger. For those unfamiliar with the Eye of the Tiger concept, we do not attempt to maintain a fixed flavor profile for this blend, as we do with our year-round espresso blends. Instead, we work with in-season coffees to develop a blend that shows off the flavors of the component coffees in unique ways.
This iteration is built around a pair of coffees from the Kayon Mountain Estate in Southern Guji, Ethiopia. The first lot is fully washed and showcases clean flavors of flowers and citrus fruit while the other was processed using the natural method, resulting in intense berry-like fruit flavors. Coffee estates in this region, and specifically in Odo Shakisso where Kayon Mountain Estate is located, are often credited for putting the Guji region on the specialty coffee map. Farm owner Ismael Hassen Aredo competes with the area's precious metal mines for seasonal workers and pays higher wages to incentivize them to return year after year. In addition to managing the 300 hectares of coffee planted on the farm, Ismael provides training for 140 nearby smallholder farmers, helps finance social initiative projects such as the construction of schools, and plans to build a bridge across the Sawana River to make the walk to school for the children of the community safer.
We finished the blend with a coffee from the El Batan Cooperative, one of Equator's oldest relationships that began nearly fifteen years ago. The village of El Batan is located high in the Andes mountains in southern Ecuador, where a handful of smallholder farmers, each cultivating just a couple acres of land, live and grow coffee. A community organization founded in El Batan was established in 1986 by a group of women who came together to find ways to earn income for their families. What started with just three women, quickly grew to thirty. The group was able to take out small loans to start enterprises such as growing and selling yucca in the local market. Years later, the group became the foundation for the coffee farmer cooperative we know today. This coffee gives the espresso a silky texture, and its caramel-like sweetness and subtle nuttiness helps to round out the fruitier and more assertive blend components.
These three distinct and contrasting coffees culminate in an espresso that can be enjoyed on its own as well as in milk-based drinks. We will roast this version of Eye of the Tiger only as long as the blend components last.
While there are many variables that contribute to dialing in espresso, here are the parameters that have been yielding the best results in our lab:
1:2 ratio, 19 grams in, 38 grams out, 24-26 seconds
Read More