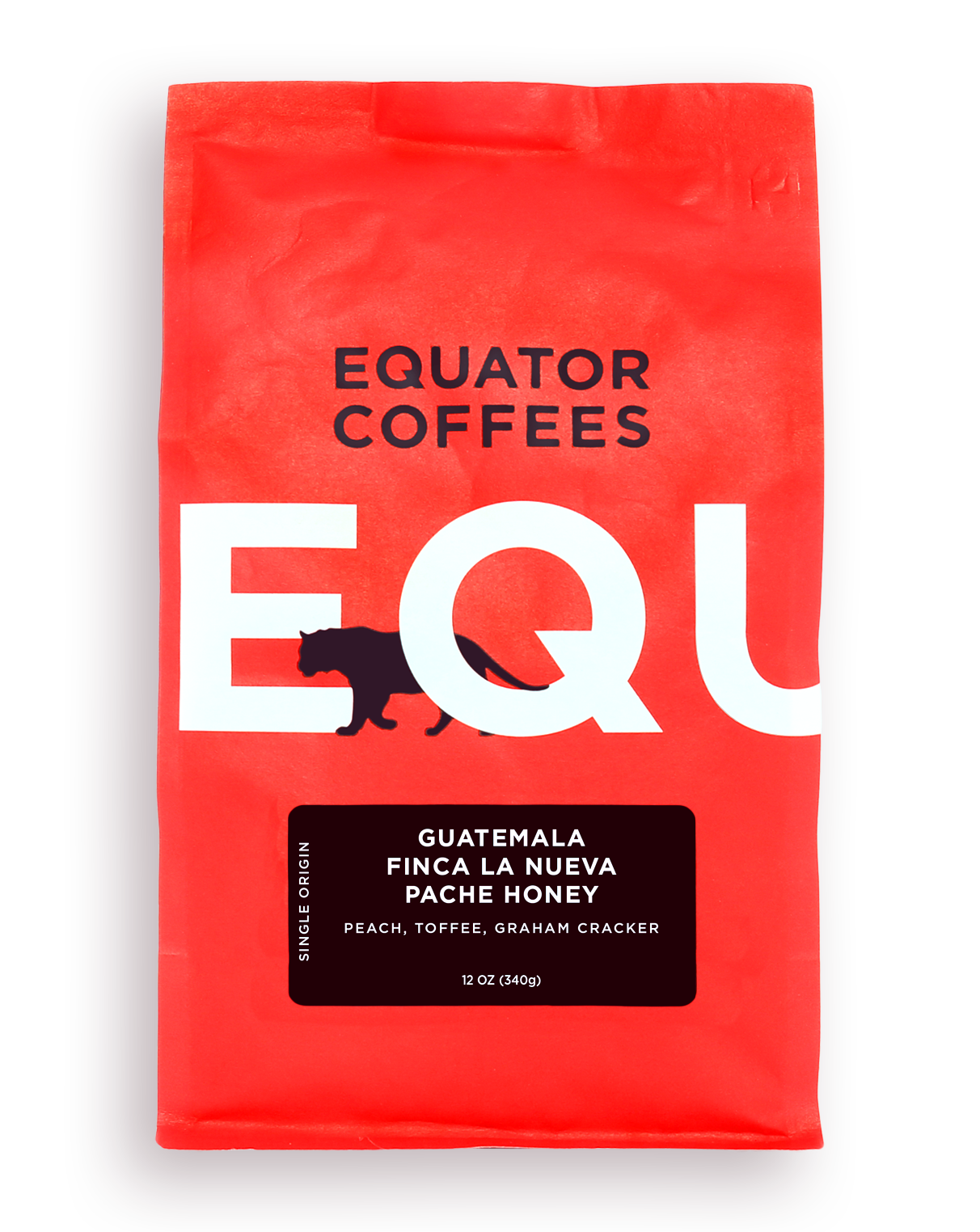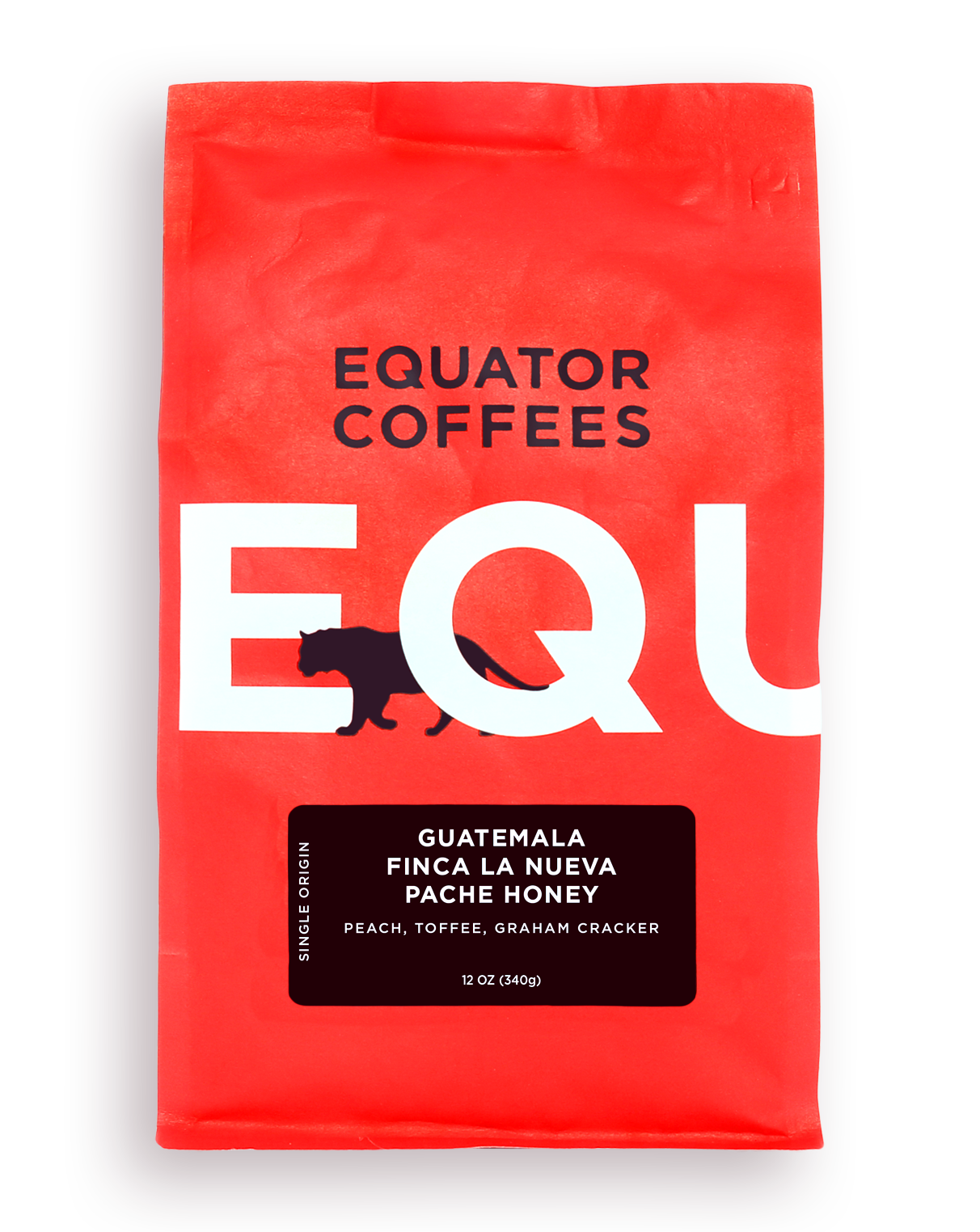 Guatemala Finca La Nueva Pache Honey
Peach, Toffee, Graham Cracker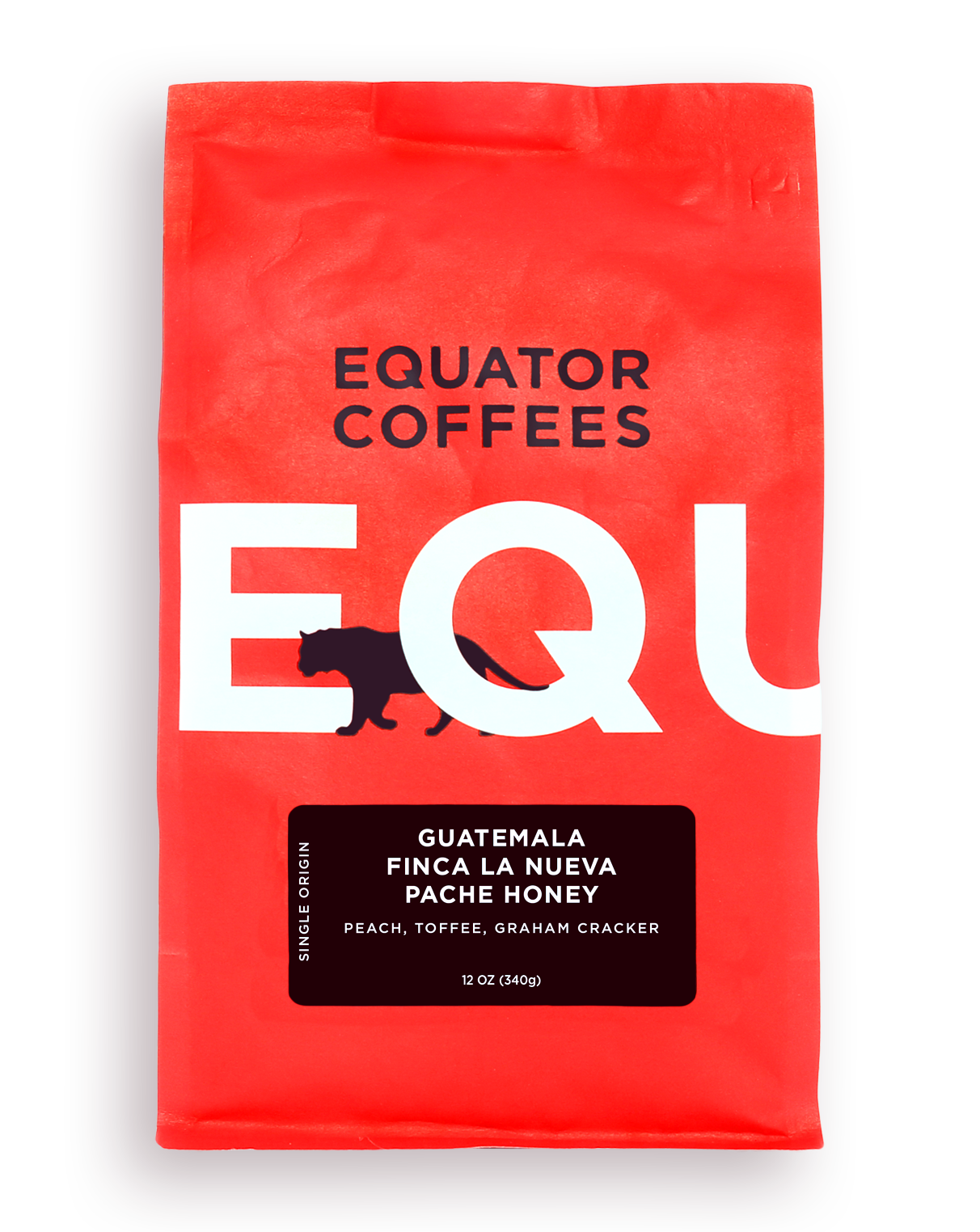 Guatemala Finca La Nueva Pache Honey
$19.00
Origin
Farm: Finca La Nueva
Producer: Ovidio Garcia Monterroso
Nueva Santa Rosa, Santa Rosa Department, Guatemala
Roast Level
Light
Med Lt
Med
Med Drk
Dark
Tastes Like
Balanced and buttery with flavors of peach, toffee and graham cracker.
Berries, Nutty, Spicy
Altitude
5,750 feet
Variety
Pache
Processing
Honey
The Story
This coffee tastes great as espresso. Equator is featuring it as a single-origin espresso in all eight Bay Area cafes in January 2020.

Ovidio Garcia Monterroso began growing coffee on a plot of land in the town of Nueva Santa Rosa in 1987 and then shifted his production efforts to specialty coffee in the year 2000. In the years that followed, unfortunately, the farm was attacked by invasive vines and a huge number of coffee plants were lost before the family was able to eradicate the problem. Ovidio, his wife Maria and their eight children painstakingly replanted the farm. By 2015 they were harvesting the majority of the farm again and back on track to producing outstanding coffee. The family was rewarded for their efforts a couple years later when La Nueva scored a National Winner award in the 2017 Guatemala Cup of Excellence.

La Nueva started experimenting with new processing techniques a few years ago, specifically natural or dry processing, and pulped natural or honey processing. Since water resources are scarce in this region, using less water intensive processing methods than the more traditional washed method is a great advantage. This Pache variety lot is a great example of La Nueva's new processing practices. With the honey method, the skins of the coffee cherries are removed but the fruit mucilage remains on the seeds during the drying stage. This tends to result in more fruit-forward tones while remaining in balance with the brighter flavor characteristics.

This coffee was brought to our attention through an auction hosted by the blockchain platform Yave, in collaboration with coffee trade publication Perfect Daily Grind and Anacafé, Guatemala's national coffee association. This was the first blockchain coffee auction ever held, and we were happy to support the efforts to communicate transparency within the coffee value chain. Blockchain is a decentralized digital ledger that is made up of linked transactions known as blocks. Each time a transaction is completed, connected computers receive a copy of the blockchain that independently prove the transaction occurred.

Read More