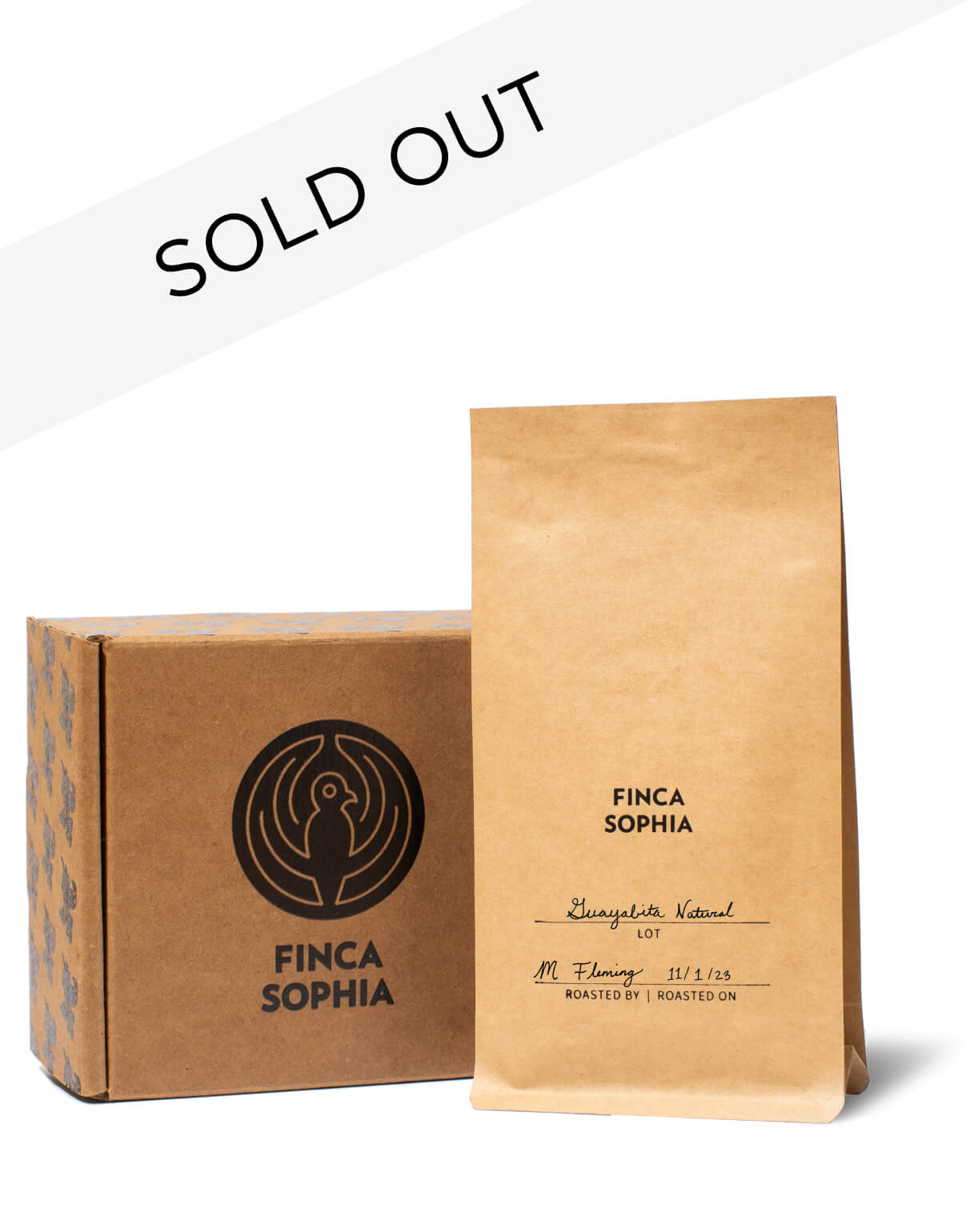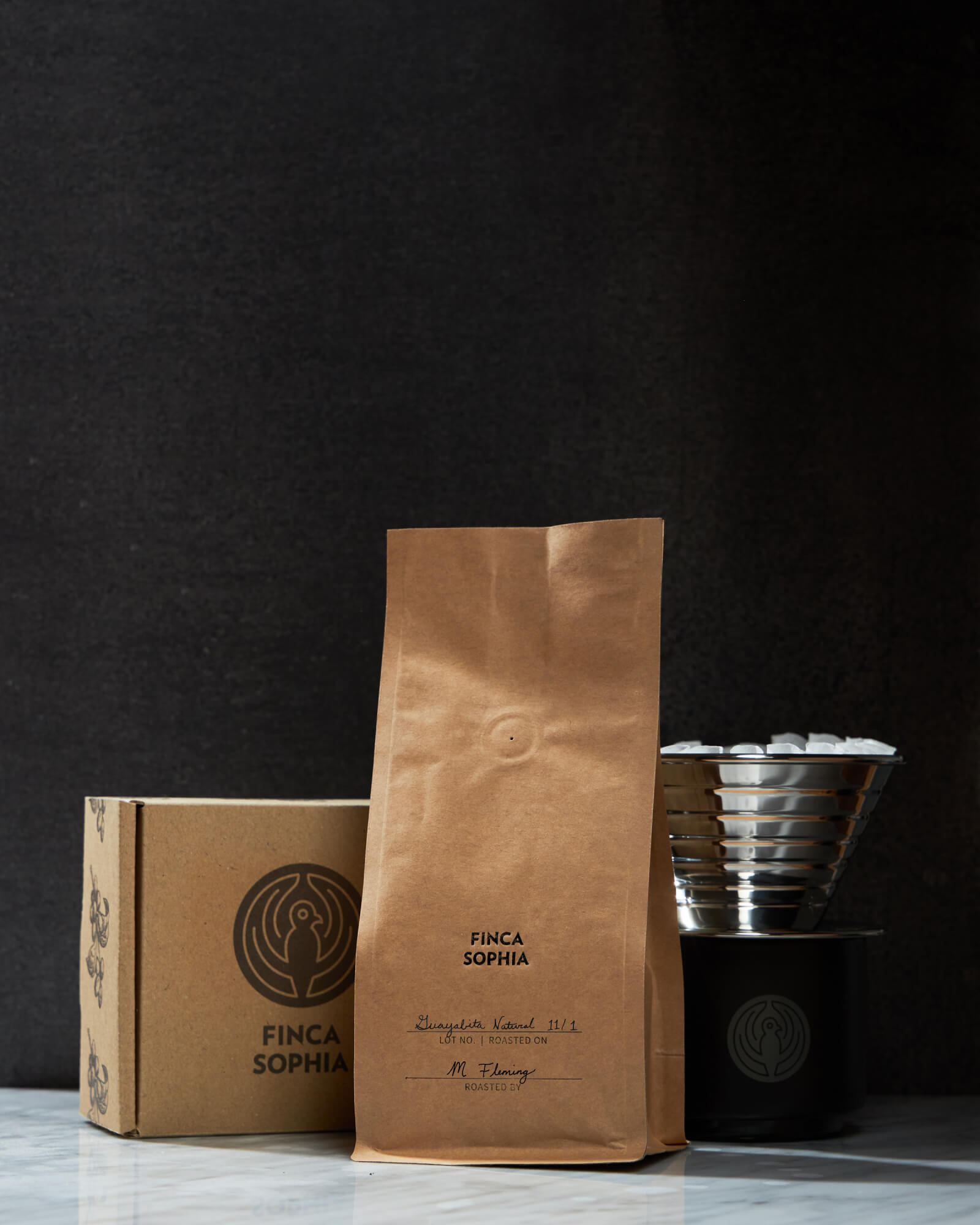 Panama Finca Sophia Guayabita Natural
The award-winning coffee from Equator's own coffee farm in Panama: Finca Sophia.

This small lot coffee is now sold out out. Our final Finca Sophia coffee, Gesha Natural,is now available with limited inventory, here.
Flavor Profile
Origin

Nueva Suiza, Volcán, Panama

Tasting Notes

Unique and complex with flavors of papaya, violet, and caramel.

Roast Level

Light

Med Lt

Med

Med Dark

Dark
Origin Story
Brooke McDonnell, Helen Russell, Willem Boot
Finca Sophia is a coffee farm co-owned by Equator Coffees. The farm is located in the highlands of Panama at an altitude that tops 2,100 meters, making it one of the highest farms in Central America. Founded in 2008, Finca Sophia is planted almost exclusively with the rare and celebrated Gesha variety. Pairing this legendary coffee variety with the extreme altitude at the farm, results in a one-of-a-kind coffee that has won the prestigious Best of Panama coffee competition multiple times. A few years ago, we began noticing a small number of plants produce cherries with a noticeable crown, or protrusion, opposite the stem end of the fruit. Guava fruit has a similar characteristic, which is why the coffee was given the nickname "Guayabita". The coffee was processed using the natural method, where the fruit is left fully intact and dried on raised beds, imparting distinctly fruity flavors into the coffee.

Finca Sophia is considered an experimental farm and was established to test the ceiling of coffee cultivation in Panama. While higher elevations promote slow fruit maturation and high quality, it also presents a myriad of challenges for coffee producers. On Finca Sophia, cool soil temperatures slow the natural decomposition process, resulting in less nutrient rich organic matter in the soil. Limited sun exposure due to the farm's topography and the region's microclimate compound these difficulties, but farm manager Kelly Hartmann and his team are considering creative ways to increase the temperature of the soil. For the time being, they are focusing on shade management and ensuring the coffee plants get enough nutrients through fertilization. Having insight into the challenges faced on Finca Sophia gives us even more appreciation for the hard work and dedication that goes into producing this special coffee, and all the coffees that we source.
Altitude
Variety
Processing
Why We Love This Coffee
Earlier this year Finca Sophia shipped seeds and leaves from the Guayabita plant to a lab in France called RD2 Vision for testing. The lab analyzed the plant material and discovered that the previously unidentified variety (that we nicknamed Guayabita) indicated a genetic resemblance to an Ethiopian cultivar called 74110. Although it was not an exact match, it shows that the sample is from an Ethiopian landrace that is very rare outside of Ethiopia. It is also very different from the Gesha variety coffee that is widely grown on Finca Sophia.
Good Coffee, Better Planet
We treasure our relationships in the global coffee community and invest in projects at origin to
support our partners in their commitment to environmental sustainability and social welfare. We also invest in reducing our day-to-day impact, through initiatives like energy-efficient Loring Smart Roasters to reduce carbon emissions per batch by 80%.

As a certified B Corporation, we are a leader in sustainable practices that impact people and the planet. This third-party certification requires us to demonstrate transparency and accountability throughout our supply chain and quantify the impact our business creates for our employees, the community, and the environment. We are proud to be part of this community working together toward one unifying goal: using business as a force for good.